Lapin Puukko knives are made in the small town of Tervola in Finnish Lapland, near the artic circle. The shop was founded in 1974 by Esa Silvola. It has since grown to five knife makers. The knives are very traditional in form and severely functional in style. They have little in the way of decoration, but are made with the highest quality materials. They are knives meant to be used. Click on the image for a larger image of the knife and it's sheath.
---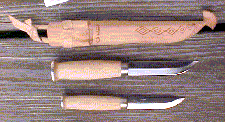 #3013; The "Double 1/3" is a combination of the #1sized puukko with a 3 3/8" blade, and the #3 sized puukko with a 4 1/8" blade in one sheath. The #1 blade is blackened, and the #3 blade is polished. Both are carbon steel. The combination weighs about 6 1/4 ounces in the sheath. $99. (One in Stock)
---

#3034; The "Mushroom Knife" is specialized for the gathering of mushrooms. It has a brush in the pommel to clean the dirt from the mushrooms. The stainless blade is about 2 1/4" long. The sheath can be worn on the belt or clipped to a ring or button. The knife and sheath weigh about 2 ounces. Current stock comes with light colored handle, rather than the stained handle shown in the picture. $45 Closeout; $39
---

Shipping and handling is $6 per order (not per item) anywhere in the US. Standard shipping is by Priority Mail, so please give me your mailing address, not your UPS address. The $6 doesn't actually cover the cost in many cases, but it's easy to calculate, and is my way of saying "thank you".
Orders in New York State require sales tax. If you don't know the sales tax in your county, I can calculate it for you, but you should expect it to be added. This applies only to orders shipped to addresses within New York State.
I'm sorry, U.S. orders only please.
Most folks use a credit card and the encrypted secure order form. If you prefer, you can FAX your order to 716-731-3715. I'll need the type of card (Discover, Visa, or Master Charge), card number and expiration date. Of course I'll also need to know what you are buying, and where to send it. Please include your e-mail address.
If you don't have a FAX, you can call 716-731-3715. If your timing is good, you can just speak to me and give me the order. If I'm not in the office it will default to the FAX machine. No collect calls.
If instant gratification is unavailable, you can always send a Postal Money Order or check to:
Ragweed Forge
PO Box 326
Sanborn, NY 14132
The Postal Snail may be slow, but he's faithful and discreet. Checks may be held for clearance, so if you're in a hurry, use a money order.
Everything on the page should be on hand and ready to ship. However some items may be short supply, so if you are ordering by mail, you might want to e-mail first so that I can hold your item (ragnar@ragweedforge.com).
---
Back to the home page