#FSAR-BLACK; Swedish FireSteel by Light My Fire; Army Model; While certainly not traditional, the modern fire stick is eminently practical. The Army model has a rod about 3/8" in diameter and 2 1/2" long. It comes packed on a lanyard with a striker. The assembly weights a bit over 1 1/2 ounces. Some folks prefer to keep a square corner in the back of their knife blade to serve as the scraper. It is said to last for about 12,000 uses. . Made in Sweden, $16
---

#FSAR2-BLACK; Swedish FireSteel by Light My Fire; Army Model with Whistle is suppled with striker that has a comfortable plastic handle incorperating a whistle. The assembly weights about 1 3/4 ounces. It is said to last for about 12,000 uses. Made in Sweden, $17
---

#FSAR2-ORANGE; Swedish FireSteel by Light My Fire; Army Model with Whistle is also available in orange so you can see it when you lay it down. $17.
---

#SFAR2-COCO; Swedish FireSteel by Light My Fire; Army Model with Whistle and Coco handles. For the environmentally aware, here's a version with handles from compressed coconut shell material. $17 Out of Stock
---

#FSSC; Swedish FireSteel by Light My Fire; Scout Model; The Scout Model is a bit lighter to carry, and has a red handle to help prevent loss. They are about 3" over all and come on a cord with a striking steel. The assembly weighs a bit over one ounce. The exposed rod is about 1/4" in diameter and 1 3/4" long. It is said to last for about 3000 uses. . Made in Sweden, $12.
---

#FSSC2; Swedish FireSteel by Light My Fire; Scout Model with Whistle; Again, this is the Scout model supplied with a whistle in the striker. $13.
---

Refills are available for the Army and Scout FireSteels. The Scout size will also fit the FireKnives. They can also be used to make your own FireSteel with a handle of your choice. An antler tine makes a nice rustic handle. Just drill a hole and glue it in place.
#S-FSAR-ST; for the Army FireSteel, a little over 2 1/2" (65 mm) long , and a bit less than 3/8" (9 mm) in diameter. $9
#S-FSSC-ST; for the Scout FireSteel, and FireKnives, a little under 2" (50 mm) long, and about 1/4" in diameter. $7
---

#FSMN-ORANGE; Swedish FireSteel by Light My Fire Mini Model; for those truely concerned with weight and bulk, the Mini weighs about a half an ounce, complete with lanyard and striker. It's rated at 1,500 uses. Without the striker it's just over a quarter ounce, and is a bit under 3" long. This is about the size of a car key, and it would ride nicely on your key chain. The price is only $8.
---


Click on image for larger view.

#11859; The Mora Fire Steel can be used either as a refill for the Survival package, or for stand-alone use. The exposed part of the fire rod is about 2 1/2" long and 5/16" n diameter. The handle has a hole for a lanyard. It weighs a bit over an ounce. A striker is not provided, but you can use the back of the Survival Knife, or any sharp edge. A broken piece of glass or sharp rock will work nicely. $15

---


The Morakniv Firesteel is also available, packed with a comfortable plastic handled scraper. The rod is 5/16" in diameter and 2 1/2" long. It weighs only 1 1/2 ounces. $16.
---

Doan's magnesium fire starter has been an American woodcraft staple for decades. It combines a magnesium block with the usual fire stick. Shavings from the magnesium block provide a fiercely hot burning tinder for starting a fire under difficult conditions. The block is 3" long and weighs about 1 1/2 ounces. No striking tool is provided. In a pinch you could use the edge of your knife, but this is very bad for a fine edge. The back of the blade will work if it has a fairly square corner. You can also use a sharp rock, or attach a short piece of hacksaw blade to the chain. Made in the USA. $9
---

Tinder-on-a-Rope from Light My Fire; is a natural way to start a fire in almost any weather. It's made from fatwood, so there are no chemicals or toxic fumes. It's high in resin content, so it doesn't absorb water, and works well in wet conditions. Powder shaved from the stick will catch a spark from a Light My Fire rod easily. In wet conditions you can add a few slivers of the wood to really get your fire going. The flame from the resin burns hotter than paper or parafin. The block is about 6" long, and weighs about 1 3/4 ounces. $4.00
---
Traditional strike-a-lights, or strikers, operate on a different prinicple than modern fire steels. Here a piece of flint or similar sharp rock is used to scrap off pieces of the steel. The spark comes from the steel, not the flint. Sparks are less numerous, and less hot, than with a modern fire steel, but are just enough with good tinder.
My strikers are made from very high carbon tool steel, and throw a good hot spark. This makes it quite easy to strike fire with flint and steel.
For a variety of reasons I won't bore you with, I don't have any of my own strikers on hand. I'm hoping to get back to the forge as time permits, and have a number of items on back order.

#R1; My stock firestriker is the asymmetrical "rattail" style with a curl. I make the same style in sizes from 1 1/2" to 3" overall at the same price. Smaller ones are easier to carry and fit into a tinderbox. The larger ones are easier to use, especially if you're not familiar with the process. A striker 2 to 2 1/2" seems to be about right for most people. Let me know what size you prefer. $12 Out of stock
---


Rattail Strikers
#R5; The rattail was common in the American colonies, and goes back much further. These are nicely forged by Al Schroll, and are about 3" long. $12. Out of Stock
---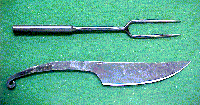 The Medieval style knife and fork are hand forged in Pakistan, where skilled labor is cheap. The knife is very similar to one I used to make when I had time to get to the forge. It has a blade a bit over 5", and is just over 10" overall. The fork is just over 9" long, and has the early straight tines. Again, they are hand forged, and vary somewhat.
Medieval Knife, $12
Medieval Fork, $12
Set, one of each, $22
---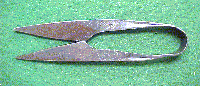 Medieval style shears; shears seem to have been more common than sissors in the medieval period. These are hand forged, and work quite well. They are about 5 1/4" in length, but may vary somewhat. $12
---
---

Shipping and handling is $6 per order (not per item) anywhere in the US. Standard shipping is by Priority Mail, so please give me your mailing address, not your UPS address. The $6 doesn't actually cover the cost in many cases, but it's easy to calculate, and is my way of saying "thank you".
Orders in New York State require sales tax. If you don't know the sales tax in your county, I can calculate it for you, but you should expect it to be added. This applies only to orders shipped to addresses within New York State.
I'm sorry, U.S. orders only please.
Most folks use a credit card and the encrypted secure order form. If you prefer, you can FAX your order to 716-731-3715. I'll need the type of card (Discover, Visa, or Master Charge), card number and expiration date. Of course I'll also need to know what you are buying, and where to send it. Please include your e-mail address.
If you don't have a FAX, you can call 716-731-3715. If your timing is good, you can just speak to me and give me the order. If I'm not in the office it will default to the FAX machine. No collect calls.
If instant gratification is unavailable, you can always send a Postal Money Order or check to:
Ragweed Forge
PO Box 326
Sanborn, NY 14132
The Postal Snail may be slow, but he's faithful and discreet. Checks may be held for clearance, so if you're in a hurry, use a money order.
Everything on the page should be on hand and ready to ship. However some items may be short supply, so if you are ordering by mail, you might want to e-mail first so that I can hold your item (ragnar@ragweedforge.com).
---