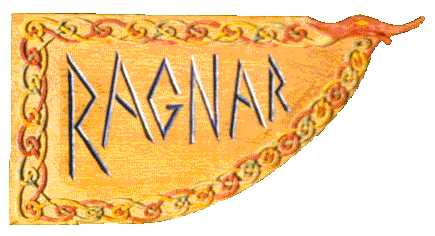 My, aren't you the inquisitive one. What caused you to click on the image? There was no indication that it was a link.
Anyway, the image is a weather vane in the style of the Viking period. The shape is typical, the vane is pivoted from the end opposite the head. This one is carved and painted in wood, while the surviving originals are mostly bronze. If you'd like to see an old one, here's an image (26KB JPEG) of one found in Söderala, Sweden. It had been taken from a long ship to adorn a church steeple! It's rather famous for its elaborate decoration, so here's a larger image to show detail (73 kb JPEG) . It's now in the Statens Historiska Museum, Stockholm.
It is interesting to note modern wind vanes point up-wind, the direction from which the wind is coming. The Viking style points down-wind in the direction the wind is going.
The conventional style lets you know what's coming to you. The Viking style lets you know where the wind will take you. It's an interesting difference in outlook.