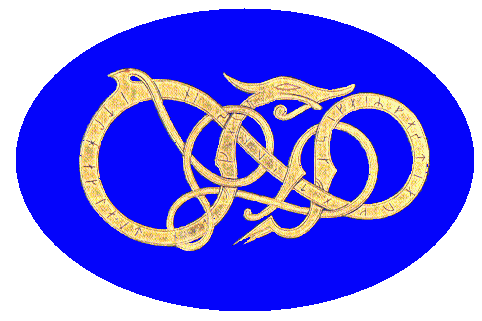 Welcome to Ragnar's Ragweed Forge
This is the home of Ragnar's Ragweed Forge. Here you'll find information about knives, both historical and modern, blacksmithing, Vikings, Buckskinners, living history, and the SCA. There's an on-line catalog of knives, ironwork, Viking and Celtic jewelry, and other historical items. The format is fairly simple. The page is, as they say, always under construction.
This is "Ragnar's" Ragweed Forge because I'm known as Ragnar of Elandris in the Society for Creative Anachronism. The SCA is a worldwide group of people with an interest in early history. I live in the Barony of the Rhydderich Hael, otherwise known as Western New York. The Hael is part of the autonomous Kingdom of AEthelmearc, formerly part of the East Kingdom.
This is Ragnar's "Ragweed" Forge because in the American Fur Trade living history groups ("Buckskinners") I also belong to, one acquires a name according to some observed behavior or incident. You should be careful about sneezing!
It's a virtual "forge" because I'm a blacksmith, a knifemaker and a member of the American Bladesmith Society.

The page reflects some of my interests including:
Historical blacksmithing, including the making of firestrikers,
Living history and reenacting, from the Viking through the American Colonial periods.
Whatever else seems interesting at the time. I don't intend the page to be static.

The Store
The web page won't be entirely devoted to sales. I'd like to provide some information, and perhaps evoke (provoke?) some discussion. But I will be selling knives, Viking and Celtic jewelry, iron work, feast gear, and other items for the historically minded, as well as modern outdoors folks. I've got a lot of different things, and there will be small catalog changes more or less constantly. I believe everything in the catalog is actually on hand and ready to ship. At least that's the plan. There is no printed version at present. I've tried to arrange it to print out clearly if you need a hard copy.
I'm sorry, I do not have a physical store, or facilities for customers to visit.
The Catalog:
(Ordering information is at the bottom of each catalog page.)
Knives and such:

Knives from Norway:
Knives from Sweden:
Knives from Finland:

Viking and Celtic Jewelry:

---

If you're interested, here's my current bookmark file (links). It's fairly extensive, and always changing.

---

This page can be viewed with any browser, including text browsers like LYNX. It will not blink, bark at you, or layer frames. There are no scrolling banners, spinning heads, or pop-up ads that won't go away. You'll just have to read it!

But it will load quickly.

Why, you ask? Because it was originally put up with a 286. When I first got on the web, my main browser was the server based text browser LYNX. While I have upgraded several times now, I'm still considering the new stuff. I'm under whelmed by the possibilities. Just because you can do something doesn't mean that you should do so. The more I view pages with multiple frames, cluttered graphics, animated gifs and blinking icons, the more I appreciate clear, full screen pages.

---

Please send comments to ragnar@ragweedforge.com, and thanks for stopping by!

---

If you don't have ready access to email you can also reach me at:

Ragweed Forge
PO Box 326
Sanborn, NY 14132

Or you you can call 716-731-3715. If your timing is good, you can just speak to me. If I'm not in the office it will default to the FAX machine. Just try back at another time. No collect calls.

---

All contents copyright Ragweed Forge. I don't mind simple quotes, but I've been finding whole pages lifted onto my competitor's commercial web sites. If in doubt, please ask.