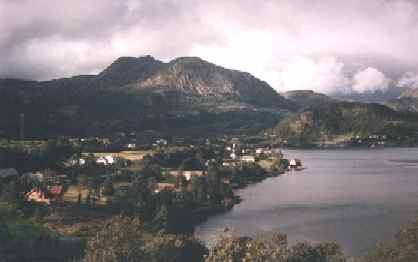 Holmedahl, Norway - home of Helle Knivfabrikker
Helle Fabrikker is situated in Holmedal, a small village by a Norwegian fjord. Here Nature, and a love of the outdoors, is a part of everyday life. This has been the home of Helle Knives since the brothers Sigmund and Steinar Helle started their business in 1932.
The wild mountainsides and open sea are the inspiration for these robust knives. Much has changed since Steinar Helle cycled over the mountains to Oslo to sell his knives. But one thing that has not is an uncompromising insistence on quality.
This love of outdoor life, combined with the Scandinavian sense of quality and elegant functionality, define Helle knives. Each Helle knife undergoes up to sixty hand operations and inspections, and each knife leaves the factory fully sharpened and ready to work. The result is a knife worthy to be passed down to a son or daughter.
These knives are not to be confused with "factory-made" knives that are usually produced in big volumes, on automated high-production machinery. At Helle, each knife is essentially hand crafted by experienced and dedicated cutlers. Each blade is individually ground by hand to achieve a shaving-sharp edge. Knife handles of carefully selected Arctic Curly Birch and "aged wood" are precisely shaped, and finished to a hand rubbed patina. Each handle fits the hand comfortably, and has it's own distinctive grain and figure, making your Helle knife "one of a kind".
Helle takes as much pride in the crafting of their handsome sheaths as they do in their knives. Fine leathers, of the quality used in the manufacture of saddles, are vegetable tanned and dyed to strict quality control standards. After forming and stitching, the finished sheath is hand rubbed with harness maker's oil to produce a luster, and protect against stains and moisture.